Why choose ARES PRISM as the software solution for your project management?
ARES PRISM is a Project Control software that provides insight into the complete life cycle of your project. With ARES PRISM, you can make reliable forecasts, control costs and measure the performance of your project.
the right tools for the right job
What can ARES PRISM do for your project?
Organizations around the world rely on PRISM software to manage projects, programs and portfolios of growing size and complexity across a variety of industries. PRISM helps organizations gain control over their projects while increasing (financial) predictability, minimizing risks and improving accuracy, efficiency and visibility.
PRISM is a scalable, robust and intuitive system that uses the industry's best practices. PRISM integrates all aspects of the project, including costs and planning, change management (more / less work), forecasting, earned value, contract management, purchasing and progress in the field. PRISM helps project managers and their teams to gain full insight into the (financial) developments within their project. Because PRISM integrates all data in one and in the same system, you can prepare much more efficient and reliable reports.
Why choose ARES PRISM as your project management software solution?
IMPROVED FINANCIAL PERFORMANCE WITH AN Out-of-the-box PROVEN SOLUTION
Avoid budget overruns and delays by using PRISM and effectively monitoring the important aspects of the project. Take advantage of the extensive set of functions to use the software quickly and efficiently.
IMPROVED WORKFLOW, IMPROVED INSIGHT AND CONTROL
Standardised techniques for measuring the performance of projects to enable aggregation and analysis of programs / portfolios. Gain insight into the execution and (financial) performance of projects via dashboards. Track expenses or calculate forecasts without relying on erroneous spreadsheets.
PRISM is scalable and maintains its great functionality, to meet users needs, as users increase (1 to 3000) or as project data load increases. PRISM keeps its performance levels and takes full advantage of larger operating systems in terms of user response time and of the number of users that can be handled. PRISM preserves its excellent response time regardless of the number of projects, of amount of project data and of number of concurrent users.
MEASUREMENT OF PERFORMANCE IN PROJECTS, PROGRAMS AND (PROJECT) COMPANIES
PRISM has built-in processes that help collect, analyze and report information about measuring performance by component, project, group, organization, system, program or portfolio. We are the most robust project management software on the market and we want to keep it that way. We know what a project organization demands and needs for Project Management software because ARES PRISM is built for our own team to help them deliver innovative technical and project management solutions.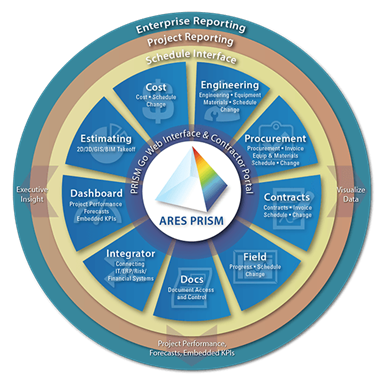 SIMPLE AND FAST IMPLEMENTATION FOR YOUR PROJECT OR ORGANIZATION
ARES PRISM is a truly out-of-the-box software with no customization required. In fact, depending on the size, scale and readiness of the project data, PRISM can be implemented within weeks.
PRISM is installed and your staff is trained.
after the project data has been cleaned up, it is manually loaded into PRISM.
Your staff can start analyzing project data
Business processes are combined with the project controls best practices.
Meaningful reports are drawn up and data is easily published via a dashboard.
THE BEST ROI AND Total Cost of Ownership
Organizations
around
the
world
rely
on
PRISM
software
to
manage
projects,
programs,
and
portfolios
of
growing
size
and
complexity
across
industries.
PRISM
helps
organizations
gain
control
over
their
projects
while
increasing
(financial)
predictability,
minimizing
risks
and
improving
accuracy,
efficiency
and
visibility.
PRISM
is
a
scalable,
robust
and
intuitive
system
that
uses
industry
best
practices.
PRISM
integrates
all
aspects
of
the
project,
including
costs
and
planning,
change
management
(more/less
work),
forecasting,
earned
value,
contract
management,
procurement
and
progress
in
the
field.
PRISM
helps
project
managers
and
their
teams
to
gain
full
insight
into
the
(financial)
developments
within
their
project.
Because
PRISM
integrates
all
data
into
one
and
the
same
system,
you
can
prepare
much
more
efficient
and
reliable
reporting.
PRISM allows users to easily manage complex and demanding projects and take mundane, less complex tasks to the next level. PRISM accelerates user buy-in and company ROI.
A SYSTEM THAT, O.A. THE FOLLOWING PARTS COVERED:
Portfolio Management
Program Management
Project Management (from small to very large projects)
Maintenance Work / Maintenance work
Initiatives
PRISM is available as cloud-based, web-based or as client, server-based technology. So whether you need a cloud-hosted configuration of PRISM, or whether it needs to be installed on specific machines, we are ready for your implementation needs.
Read more (you go to the website of ARES PRISM)
Trésviri Cost Engineering Solutions
Burg. J.G. Legroweg 45
9761 TA  Eelde (gebouw A) 
Copyright © 2021 Tresviri